Setting
Did you know?
• Wales has 641 castles, more per square mile than any other country.
• Wales' rich literary heritage includes connections to Dylan Thomas, William Wordsworth, Roald Dahl and Hay-on-Wye (Known as "The Town of Books").
• Wales was a pioneer of the "Eat Local" movement, and restaurants are proud to use fresh, locally sourced ingredients.
• Wales has 3 million people and 11 million sheep. Bah...

Trigonos Retreat Centre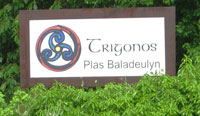 Myth, Mountain & Imagination will be held at Trigonos Retreat Centre, which offers modest but very comfortable accommodations and breathtaking views of Snowdonia National Park's rugged mountain landscape.
The property has many secluded places for quietness and reflection. Trigonos' 18 acres include walled gardens, meadows, woodlands, streams and magnificent views of Mount Snowdon, the tallest mountain in England and Wales. Be sure to look for benches by the meadows and the stream as well as the working sundial and the path down to Llyn Nantlle, the lake.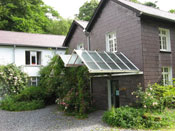 If you prefer writing and relaxing inside, you will enjoy the sitting room, with its open fireplace, and the library, with its comfortable couches. All of Trigonos' workspaces and meeting rooms get excellent natural light.
The weather tends to be cooler and damper in than the typical muggy Mid-Atlantic summer, and it's always refreshing. You'll want to pack your "Mackintoshes" and "Wellies" just in case.

Accommodation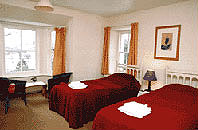 Single and double guest bedrooms are available with lake or garden views. Most rooms have twin beds and their own private bathrooms. Rooms will be assigned on a first-come, first-served basis. Register early to get your first choice!


Dining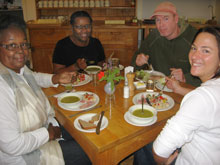 You will dine on nutritious, tasty meals with an emphasis on fresh, unprocessed ingredients, whenever possible prepared with vegetables and salads grown in Trigonos' gardens without the use of herbicides, pesticides or artificial fertilizers. The dining room, with its beautiful handmade furniture, looks out on the meadow and the lake and offers stunning views of the mountains. Tea and coffee are available at all times so you can make yourself at home. Special dietary requirements can be accommodated.

Trigonos is a Retreat Centre not a Resort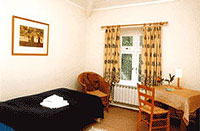 Trigonos is a retreat centre committed to environmental preservation and sustainable land use. Your comfortable room will be made up with fresh sheets, blankets and towels. Trigonos doesn't have maid service so if you haven't made a bed in a while, better practice ahead of time. Most rooms have a chair and table or desk, and the earlier you register, the more amazing your view of the lake and mountains will be. View more interior photos of Trigonos.
There are no televisions or radios to distract you, and cell phone reception is limited so even if you have an international phone, you may not get a signal. There is a pay phone for incoming and outgoing calls (we'll give you the number later). Wi-fi is available in the visitors' office and a computer and printer can be used for a nominal fee.
Remember, this is a getaway. You will be far from the distractions of your regular life and immersed in your writing.
Sound like what you need? Register today.

Trigonos in History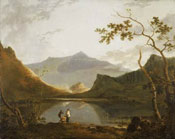 From Trigonos' property, you can see the view made famous by the 18th century British painter Richard Wilson in "Snowdon From Llyn Nantlle." The original work is on display in Liverpool's Walker Art Gallery. Learn more about it.

Trigonos provides an ideal venue for Myth, Mountain & Imagination. The biggest problem you will face is being distracted to deal with the gorgeous landscape—it's almost too beautiful to write.


About Wales
Croeso i Cymru! / Welcome to Wales!
While Wales is often thought of as one entity with the rest of Britain, it is different in landscape, culture, tradition and language. Most people in North Wales are bilingual, speaking both Welsh and English. The Welsh take great pride in their country's history which consists mainly of fighting to retain their independence. Wales was invaded by Romans, Vikings, Anglo-Saxons, Normans and finally the English.
Remember Owain Glyndwr (Owen Glendower) who led the Welsh forces in the rebellion in Henry IV, Part 1?

Shakespeare didn't much like him, but he's a hero to the Welsh and is considered the father of Welsh nationalism. After leading an independent Wales for a dozen years or so, he was defeated in 1412 and disappeared. While his final years are a mystery, I thought I spotted him a few years back operating an amusement ride at Barry Island Pleasure Park near Cardiff, but I can't verify it.

In 2000, celebrations were held all over Wales to commemorate the 600th anniversary of the Glyndwr rising and he has been voted 23rd in a poll of the 100 Greatest Britons. What would George Washington say about those numbers?
This history of constant struggling against invaders left Wales with more castles per square mile than any other European country. What I realized on a recent trip is that these castles were built to conquer the Welsh (duh!), but they love them anyway. And they are magnificent! Today, tourists from England (but virtually none from the States) continue the invasion.
Consider visiting one of these nearby castles, all different and hauntingly beautiful.
• Beaumaris Castle ̶ a "concentric" castle on nearby Anglesey Island
• Caernarfon Castle ̶ restored in 1969 when Prince Charles was invested
• Conwy Castle ̶ "one of the great fortresses of medieval Europe"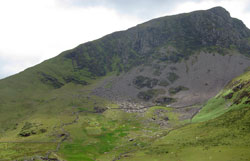 Mount Snowdon at 3,560 ft. is the tallest mountain in England and Wales.
Sir Edmund Hillary's team practiced on Snowdon before conquering Mt. Everest.
J.R. Tolkien is said to have based the Mountains of Mordor [In "The Lord of the Rings"] on the Snowdon range.
The Welsh name for Snowdon is Yr Widdfa, meaning "tomb." Legend has it that King Arthur slayed a vicious ogre on its summit.

Stuff to Do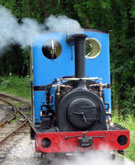 There's plenty to explore in the area including medieval castles, slate and copper mines, narrow gauge steam railways, the rugged seacoast as well as museums, Welsh theatre and cinema. If you like to be active, you can try pony trekking, hill walking, mountain biking or coasteering, an adventure sport invented by the Welsh.

If you enjoy hiking, there are a number of spectacular day hikes to try. Browse our hiking page to learn more.

We will offer two optional excursions during Myth, Mountain & Imagination, but you are also free to explore on your own. It's easy to arrange for a bag lunch from Trigonos' kitchen so you can take off after the morning workshop. We will share the relevant details with registered participants as it gets closer.

Writers on Snowdonia
William Wordsworth
DARKNESS surrounds us; seeking, we are lost
On Snowdon's wilds, amid Brigantian coves,
Or where the solitary shepherd roves
Along the plain of Sarum, by the ghost
Of Time and shadows of Tradition, crost. . .

from "Uncertainty"

***
IN one of those excursions (may they ne'er
Fade from remembrance!) through the Northern tracts
Of Cambria ranging with a youthful friend,
I left Bethgelert's huts at couching-time,
And westward took my way, to see the sun
Rise, from the top of Snowdon. To the door
Of a rude cottage at the mountain's base
We came, and roused the shepherd who attends
The adventurous stranger's steps, a trusty guide;
Then, cheered by short refreshment, sallied forth. . .

from The Prelude, Book Fourteenth

On Wordsworth's Time in Snowdonia
". . .in his epiphany from the summit of Snowdon at the climax of The Prelude Wordsworth moves right beyond the religious preoccupations of his two predecessors (Petrarch and Augustine) to his triumphant affirmation of the creative powers of the poet, through memory, to open up entirely new possibilities for the poetry of the 'single self' in the future."

From an article by Alan G. Hill, University of London

Can't wait to attend?
Join us for a transformative week of writing, relaxing and exploring this spectacular, lesser known Celtic gem. Take advantage of daily writing time, workshops, organic meals and relaxing by the lake.