Registration
+++
The 2012 program is filled. We travel to a different destination each summer. Sign up for our email list to find out about our future writing retreats in the US and abroad.
+++
Fees
Includes the workshop, 7 days and 6 nights at the retreat centre, all meals, and transportation to/from the Bangor Rail Station. This Getaway will begin with dinner on Saturday and conclude after breakfast on Friday morning. Fees do not include transportation to Wales, optional excursions or gratuities.
• Double Room Package — $1,695*
• Single Room Package — $1,995
• Shared Room Package (with non-participating guest)** — $2,795
*A double room can be a great way to save money. Let us know if you'd like us to try and match you with a roommate.
**Non-participating guests are welcome to share your room which, in most cases, will have two twin beds.
Take advantage & save:
• "re-PETER" Discount ($75) if you've attended any of our other programs!

Unfortunately, we are not able to offer financial aid for the Wales Getaway.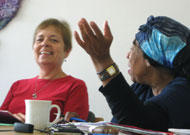 Workshop size is strictly limited.
Our programs fill quickly.
Register today so you're not disappointed!

The Fine Print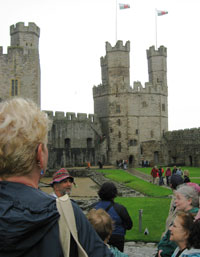 • To receive the Early Bard Discount ($75), you must register by May 31 & pay in full within 1 month of registering
• To receive the "re-PETER" Discount ($75), you must have attended at least one of our other programs
• 50% deposit due upon registration
• Balance due in full by June 15
Cancellation Policy
• On or before Feb. 10 — 100% refund minus nonrefundable $250 deposit
• Feb. 10-June 15 — 50% of total fee refunded
• After June 15 — partial credit contingent on filling your space

Earn Professional Development Credit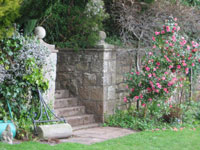 Many educators are sponsored or reimbursed by their school districts and colleges for this multicultural, professional development activity. Teachers will earn Professional Development credit for participating in Myth, Mountain & Imagination.